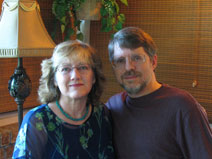 Mel and Cheryl Hodde
(Click on photo for a 10 x 8)
Their novels have won multiple national and international awards, including the Christy Award, three Holt Medallion Awards, two Reader's Choice Awards, and Library Journal's Top Five Christian Novels of the Year. They have been nominated by Romantic Times Magazine for the Lifetime Achievement Award.
Hannah Alexander is the pen name for the writing collaboration of Cheryl and Mel Hodde. They chose the name "Hannah Alexander" to incorporate their two names into one. To them, Hannah means hope in the Lord and Alexander means servant of mankind
Mel and Cheryl live in the Missouri Ozarks, where they like to set the majority of their books.