W E L C O M E
This is the website of Hannah Alexander!
Join us as we give you a glimpse into our world of small-town charm in the Ozarks, complete with the healing touch of prayer.

We have enjoyed meeting readers from all over the world who have a fascination for fiction with a little medical suspense and romance. Why don't you join us in beautiful southwestern Missouri and northwestern Arkansas, and see if the pace doesn't keep you reading, maybe even keep your heart pumping a little faster than normal.
Our apologies. Due to a long pause in my writing schedule, the Hallowed Halls Series novels, A Lot of Class, and A Living Soul, have been delayed. I just finished rewrites for a new edition of Hidden Motives and The Wedding Kiss and will be back to work on Hallowed Halls novels soon.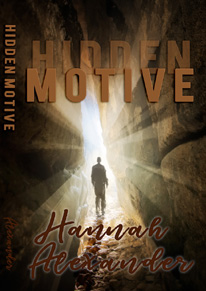 Hidden Motive
Now available on Amazon Kindle
(paperback version coming soon!)

Someone has murdered Sable Chamberlin's grandfather.
She's next on the hit list. Can she escape the killer if she and her
rescuer, Paul Murphy, can find a way back to her
secluded home in the Missouri Ozarks?
When an ice storm strands them at their hideaway with a
busload of suspicious strangers, Sable and Murph can trust no one but each other. The only hope they have of escaping her grandfather's tragic fate is uncovering the secret he was
keeping from his family and exposing the identity of the
mastermind behind the evil.
But danger lurks in every shadow. . .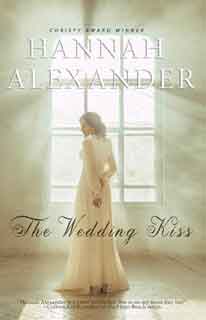 The Wedding Kiss out on Kindle.

Against the charming backdrop of 1901 Eureka Springs, Arkansas, one simple kiss draws two people into a discovery that will forever change their lives.

Marriage seems the only option for Keara McBride and Elam Jensen. Her father's gambling problem has left her homeless; his children need a mother's care. But when the Jensens seal their vows at the altar with a kiss, their marriage of convenience suddenly becomes far less convenient. Their first kiss ignites sparks of attraction and leaves them both feeling guilty about betraying the memory of Elam's recently deceased wife--who was also Keara's best friend.

Then a mysteriously injured visitor shows up on the wedding night, threatening to draw them into deadly danger. But does she also hold the key to the Jensens' future happiness?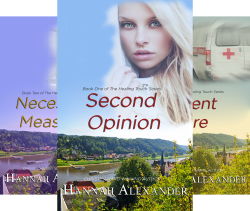 The Healing Touch Series, Second Opinion, Necessary Measures and Urgent Care are available at Amazon https://goo.gl/fJS2V7.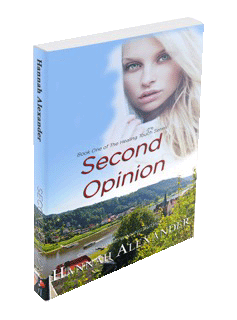 Second Opinion
by Hannah Alexander
December 2015
---
Lauren McCaffrey, an experienced ER nurse, arrives in Dogwood Springs,
Missouri, hoping for a fresh start in her career and a convenient escape from her family's humiliating pressure for her to find a husband.

Dr. Grant Sheldon transfers to the local hospital in search of a nurturing environment for his twins, who are still grieving the death of their mother. But his idyllic setting is not free of all the problems he
thought he had left behind in the city.

When the community's tranquility is threatened by a drug ring and a mysterious epidemic, Grant and Lauren find themselves racing the clock in a desperate search for answers.

Second Opinion combines emergency medicine and small-town America in a
story of love's discovery and a faith that lasts.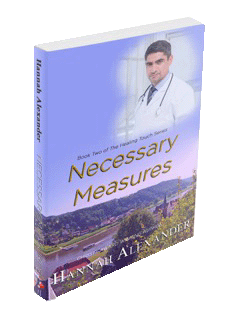 Necessary Measures
by Hannah Alexander
Now available as an eBook on Amazon's Kindle.
---
Small Town Values Collide With Big City Problems
Dr. Grant Sheldon's move to Dogwood Springs is not turning out as he had planned. The ER is in an uproar, and drug use and trafficking has become an ever-increasing problem.
In addition to taking on more shifts in the ER, Lauren McCaffery agrees to stay with Grant's twins when he is called out of town. But she soon discovers that keeping track of two headstrong sixteen-year-olds carries some unexpected dangers.
After the hospital administrator falls ill, the ER is left under the questionable leadership of an unhappy doctor with his own private agenda—and a painful personal life. In the midst of the turmoil both Grant and Lauren are forced to come to terms with the pain of loss. Can they also find the joy of hope renewed?

Excerpt!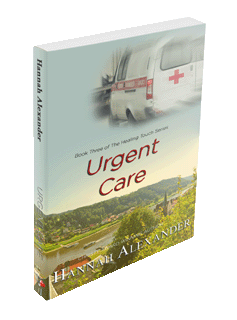 Urgent Care
by Hannah Alexander
Now available as an eBook on Amazon's Kindle.
---
Small Town Values Collide With Big City Problems
The town of Dogwood Springs has been deluged by spring storms. As tornadoes and torrential floods rage, Archer and Jessica Pierce struggle with doubts about their local church ministry. In the midst of the havoc, Archer disappears, and the town begins a frantic search against time and the elements. Dr. Grant Sheldon struggles to handle all the crises in the ER, where the hectic pace makes it difficult to focus on the future of his relationship with Lauren McCaffrey, RN. Combining a fast pace with a detailed portrayal of emergency medicine, this is an authentic, gripping novel for Christian fiction readers.

Excerpt!