Out Now!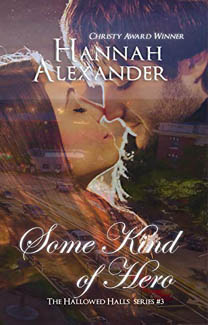 Some Kind of Hero
(Kindle Addition)
Book 3 in the Hallowed Halls book series
Three months ago, research physician Laine Fulton was falling in love until the man in her life left town on a secret mission with no explanation, no warning. When billionaire boss Weston Cline called on her for a mission of her own, life took a turn that put her future at risk.

Three months later, Dr. Ian Stone returns from a mission rescuing children from a war-torn country. He finds that Laine is seeing another man and is hesitant about allowing Ian back into her life. He has secrets he can't share, but suddenly, so does she.

How can Laine give her heart to a man who might disappear again at a moment's notice? Will Laine's mission end her career and hope of a future?