Note of Peril
by Hannah Alexander

---
The unusual gift arrived after country singer Grace Brennan's show in Branson—a music box with an anonymous note. Only Grace recognized the message's implied threat. Someone had discovered the Hideaway native's past indiscretion—and intended to jeopardize her present success.
Her director's mysterious death left Grace free-falling—into the arms of costar Michael Gold. Michael was supportive as Grace resisted pressure to betray her Christian values. But with danger looming, she realized that trusting anyone—even the man she secretly loved—left her vulnerable. With a stalker closing in, could Michael convince Grace that going solo would only lead to greater danger?
Hideaway:
The Ozark Mountains hide dangerous secrets..
---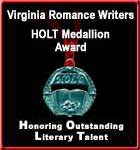 Holt Medallion Award 2006 for Short Inspirational