Note of Peril
by Hannah Alexander

---
A Secret Admirer ...
The unusual gift arrives after country singer Grace Brennan's show in Branson--a music box with an anonymous note. Only Grace recognizes the message's implied threat. Someone has discovered the Hideaway
native's past indiscretion--and intends to jeopardize her present success.
With a Secret Agenda . . .
Her director's mysterious death leaves Grace free-falling--into the arms of costar Michael Gold. Michael is supportive as Grace resists pressure to betray her Christian values. But with danger looming, she realizes that trusting anyone--even the man she secretly loves--makes her
vulnerable. With a stalker closing in, can Michael convince Grace that going solo could lead to a greater danger?
---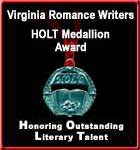 Holt Medallion Award 2006 for Short Inspirational