Last Resort


by Hannah Alexander


---
Clarissa Cooper, twelve, vanishes near her home—abducted, evidence suggests, by someone close to her.

Noelle Cooper races back to her hometown to help in the search. In the effort to save her young cousin, she steps into a web of secrets that has haunted her family for generations.
Nathan Trask will do anything to protect Noelle from danger. Noelle's childhood friend, he might be much more...if she dares turn to him.
---
"...HANNAH ALEXANDER is skilled at telling an engaging story"

—RANDY ALCORN,
Bestselling author of Safely Home


Last Resort was named one of the top five Christian novels of 2005 by Library Journal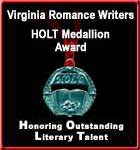 Holt Medallion Award 2006 for
Southern Theme &
Long Inspirational