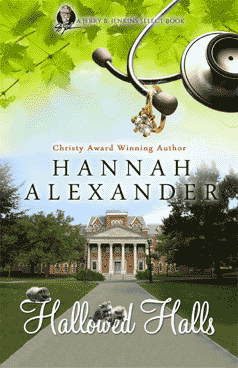 Hallowed Halls
by Hannah Alexander
May 2014
---
When Dr. Joy Gilbert is fired by a grieving boss who wants more from her than she's willing to give, she returns to her tiny hometown of Juliet, MO to find her ex-fiance still single, her once-strong and independent mother struggling in every way. Before she can make a move, however, the back door of her car bursts open and Tressa, her former employer's fifteen-year-old daughter, clambers out, refusing to return home to either of her divorced, embittered parents.
Zack Tyler, director of Juliet Hospital's ER, is stunned to see the woman he still loves has returned to town, apparently unbroken by the rejection of her former employer. That same employer, Weston Cline, told Zack last year that Joy wanted to spread her wings and take the job Weston offered her in a suburb of Kansas City. Zack would have expected to see her heartbroken, in tears, but all she's worried about is her mother's health and Tressa's rebellion. To help her financially, Zack hires her to work in the ER, but the minute he does that, he knows he's in for another wild ride of the heart.
When Tressa first begins having blackouts, she's relieved that they take place when she's alone. If she's not careful, she's afraid Joy will feel the need to tell her parents, who will insist she return home. But more and more often, the blackouts hit, and she's in grave danger before Joy and Zack can discover what is causing them, and what caused the deaths of her brother, her father's baby brother, a great grandfather...how many unexplained deaths will her family have to endure?
ISBN-13: 9780578137070
Publisher: Christian Writers Guild
Publication date: 5/28/2014
Hallowed Halls can be purchased in your local bookstore, from online stores, and the ebook is available on Kindle and Kindle Unlimited.